SERVPRO Experts Have The Training And Experience In Cheshire
3/23/2022 (Permalink)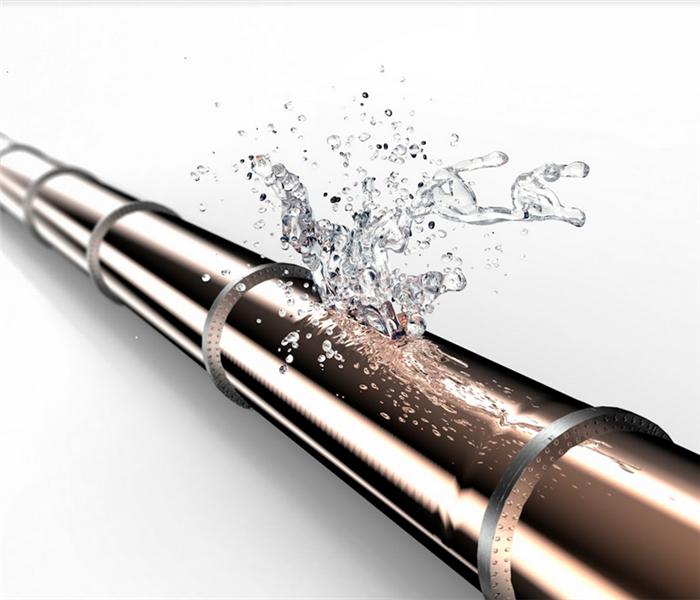 Pipe breaks or even cracks behind walls can cause water damage. Tackle the situation by contacting SERVPRO right away to investigate the cause.
Common Hard-to-Reach Places That Require Water Removal in Cheshire Homes
One of the worst things about water damage in a house is the fact the water runs quickly and winds up in hard-to-reach areas. Pipe breaks in walls, under cabinets, or ceilings all leave challenges for the cleanup.
Water removal in Cheshire homes comes in many forms. The first action SERVPRO technicians perform is locating the water loss areas in the house. They use state-of-the-art moisture detection equipment that allows them to "see" behind walls and under floors to determine areas of water migration.
Challenging Places for Kitchen Water Extraction
The average residential kitchen has numerous places for water damage to occur. Supply lines to the dishwater, refrigerator, and sinks have failures and cause water loss. When water is under built-in cabinets, or technicians find moisture behind baseboards, they remove any structural materials as needed, so the extraction wands reach the water quickly.
Second Story Water Loss Situations
Whenever there is an in-home flood occurring on an upper level, there is always the danger of water damage within the floor joists or the space between floors. Technicians carefully scope the area to confirm the presence of moisture and, if needed, drill weep holes in the ceiling below to allow for both drainage and airflow.
Specialized Drying
Drying a property is far more than setting up fans and pointing them in the direction of wet areas. SERVPRO technicians utilize the power of centrifugal air movers and use them in tandem with different types of dehumidification equipment, chosen by the evaporative qualities of the surface. For example, hardwood flooring has low evaporation and works best with desiccant dehumidification.
Drying mats work well over weep holes as well as hardwood floors and subfloors to ensure complete dryness. Technicians set up traditionally tricky areas to dry, such as wall cavities with equipment such as the Injecti-Dry, which forces air into the small spaces to dry it as fast as possible.
When your home needs water removal and restoration services, contact SERVPRO of Waterbury at (203) 757-5050. The technicians use their extensive training and experience to return your home to its preloss condition "Like it never even happened."